Principle 
The instrument applies mechanical measurement.Keep three point touch the coating(two wheel,a pencil core),and a 45 degree angle between pencil and test surface.Push the instrument sliding,pencil draws the corresponding track in the coating.In the change of different pencil marks,the hardness value of the film can be determined.
Standards
《GB/T 6739-96》 Coating Hardness Pencil Test Method
《ASTM D3363-00》 Standard Test Method for Determination of Coating Hardness by Pencil Test Method
《GB/T 1727-92》 General Method for Preparing Film
Structure Description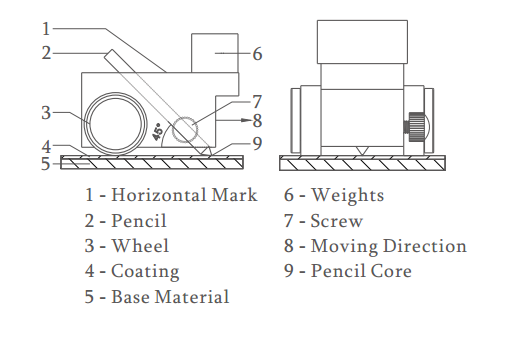 Specifications 
 Downloads

Pencil Hardness Tester HT-6510P_Catalog
Pencil Hardness Tester HT-6510P_EN_Manual

 RS232Software
NOTE: The name of RS232 Software is 'RS232_EN_4.0.rar' after downloading. Just decompress 'RS232_EN_4.0.rar' with Decompress Software, Enter password:www.landtek.cn. a folder named 'RS232_EN_4.0' is abtained. There are RS232 Software and install instruction inside the folder.