Features

* High accuracy and high resolution.
* Digital display with no guessing or errors.
* With 4 measurement unit for selection and conversion, N, kg, lb, g.
* With peak value hold function.
* With data memory function, can memorize 99 groups of data.
* With 10 minutes auto power off and manual power off.
* Power can be supplied by either alkaline battery or 5V DC power.
* Use USB/RS-232 data output to connect with PC.
* Provide Bluetooth data output choice.

 Specifications

Peak Value Measurement, Real Time Measurement

10 Minutes Auto Power Off, Manual Power Off

150% FS ( Buzzer Alarm Over 110% FS )

2 x 1.5 AA( UM-3 ) Battery or 5VDC Power Supply

No Vibration Source or Corrosive Medium Around
 Accessories

Lengthening Connection Rod
 Specification And Application Of Accessories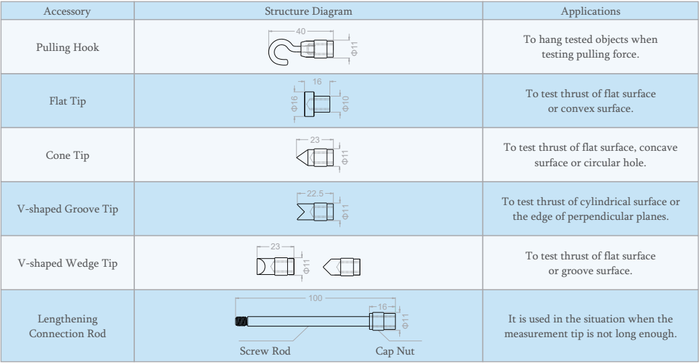 Downloads

 DigitalForceGauge_FM-207-100k_Catalog
 FM-207-100k_EN_Manual

 RS232Software
NOTE: The name of RS232 Software is 'RS232_EN_4.0.rar' after downloading. Just decompress 'RS232_EN_4.0.rar' with Decompress Software, Enter password:www.landtek.cn. a folder named 'RS232_EN_4.0' is abtained. There are RS232 Software and install instruction inside the folder.